Wyndham Grand Desert
Las Vegas, Nevada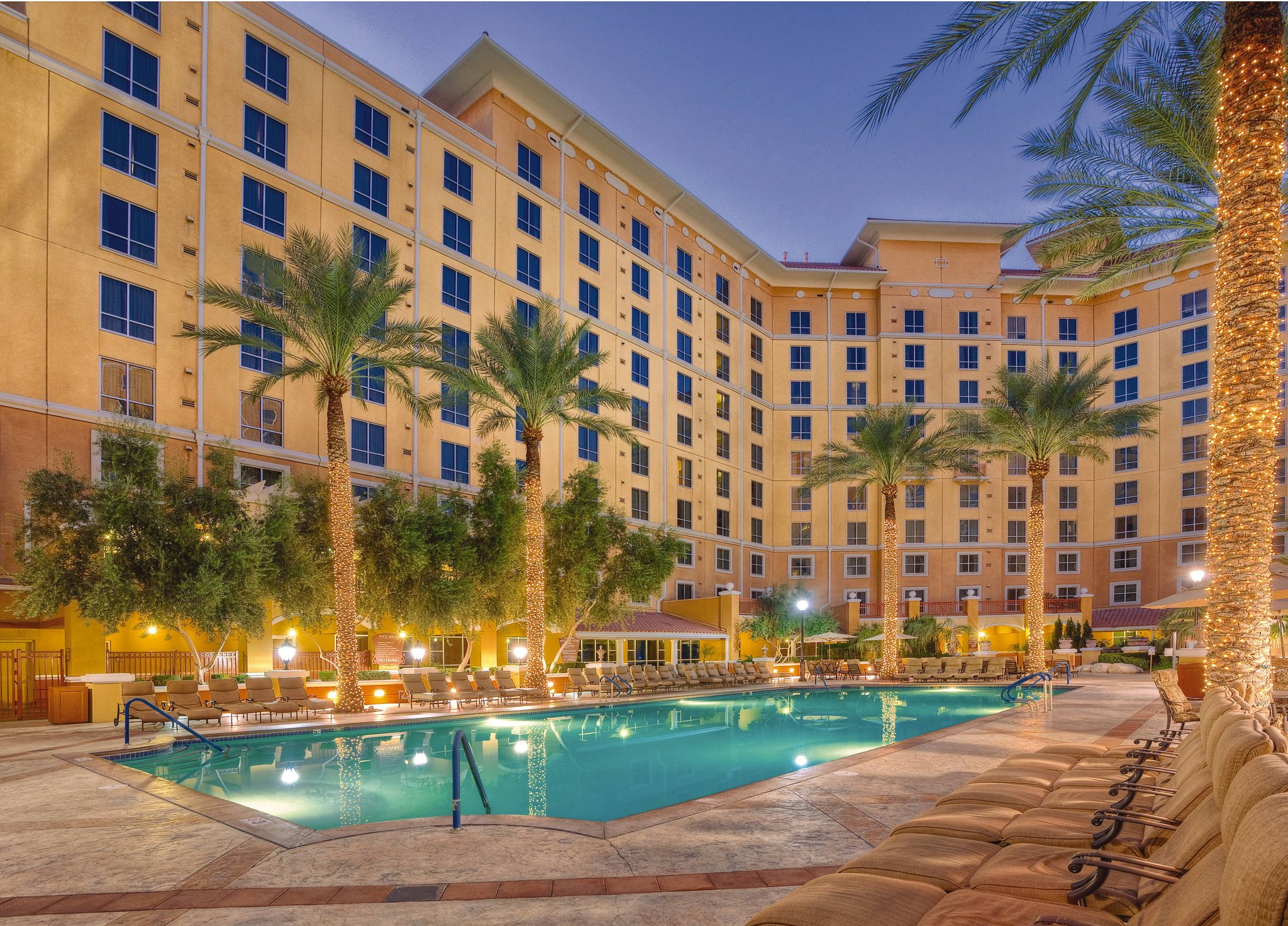 CAN'T FIND WHAT YOU'RE LOOKING FOR?
GO HERE
Resort Description: (scroll for more)
Wyndham Grand Desert
Resort and Suites


The Mediterranean-style Wyndham Grand Desert is one of the finest and most accessible timeshare resorts in Las Vegas. Just two miles from McCarran Airport and only minutes from the Las Vegas Strip, the Wyndham Grand Desert Resort is a convenient and accommodating choice for any stay in Las Vegas. The property consists of three large towers that offer panoramic views of mountains, desert and the City of Las Vegas including the unique architectural wonders of The Las Vegas Strip. The courtyard view of your own lagoon-style swimming pool will provide additional impetus to head for that morning swim and relaxation.

The one and two bedroom fully-furnished suites provide a complete kitchen and plenty of space during your home away from home vacation. This timeshare resort has all the amenities you want including a sauna, four outdoor hot tubs, and a large swimming pool for the whole family to enjoy. A one bedroom suite has comfortable sleeping for four. Two-bedroom suites can accommodate six persons. All units have multiple flat-screen TVs, plus a stereo and DVD player.

The completely equipped kitchen is equipped has a stove, oven, microwave, cabinets, full-sized refrigerator with an icemaker and place settings. The semi-formal dining room has a table large enough to accommodate 8 people. Daily housekeeping is available to truly make your vacation experience a relaxing one.

The typical 2-bedroom floor plan consists of a foyer entrance with the kitchen and dining area to the right and left. Ahead is the spacious living room while to one side is the guest bedroom and bathroom. A luxurious master suite with a private bath and laundry is on the opposite side.


About Las Vegas


Las Vegas offers a wide range of activities for vacationers or weekend visitors. It is not just about gambling. World-class entertainment, golf, shopping, boating, dining, day trips plus the casinos provide a wider range of options than just about any other destination in the world. Wyndham's Grand Desert Resort offers free shuttle service to the Las Vegas Strip, so even that part is hassle free. The climate is delightful during just about any season of the year. All of this makes Las Vegas an ideal location to "call your own" with a timeshare that allows you to enjoy your luxury suite on your own schedule.


Advantages of Fractional Ownership


Add up all the expense, plus headaches, that you have incurred during past vacations at hotels that don't live up to their promise, sub-par restaurants, inconvenient local transportation and sitting in a cramped hotel room waiting for the rain to stop. Instead, imagine having your own familiar place to sleep, eat and relax for a percentage of what those other vacations may have cost. Timeshare vacations are hassle-free and require minimal planning. Fractional ownership at the Wyndham Desert Resort is an incomparable experience that can be repeated as often as you like. Premier Timeshare Resale is exceptionally experienced in helping you to advise and find the exact property to match your needs in space and cost.


Buy or Sell Your Timeshare


If you are looking to buy a Wyndham Grand Desert timeshare, or sell your existing timeshare, Premiere Timeshare Resale's knowledgeable agents are available to assist. Contact us and we will be happy to help.