Club Regina Los Cabos at Westin
San Jose, Mexico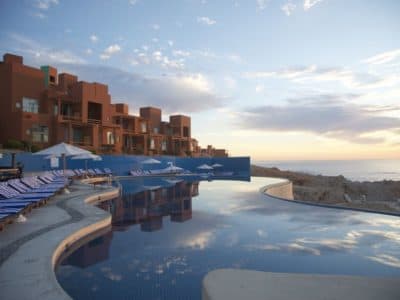 CAN'T FIND WHAT YOU'RE LOOKING FOR?
GO HERE
Resort Description: (scroll for more)
There is no better place to explore the beautiful and diverse region of Los Cabos, Mexico than Club Regina Los Cabos. The impeccable resort abuts the magical shoreline where the Pacific Ocean and the Sea Of Cortez meet. Every Club Regina Los Cabos timeshare comes with an incredible ocean view, allowing you to spend your early evenings watching the sun dip below the horizon and paint the evening sky. From the best sport fishing in the entire world to championship golf courses, Club Regina Los Cabos is a popular mecca for anyone in search of the ultimate vacation underneath the Baja sun. This truly is where your worries end and memories begin.


Club Regina Los Cabos at Westin: An Experience in Its Own Right


Perched above golden shores, Club Regina Los Cabos at Westin juts out from the rocky landscape, inviting visitors with open arms and beckoning them to discover the resort's amazing confines. There are three types of stylish Club Regina Los Cabos timeshare resales to choose from: hotel suites, club suites, and grand suites that can accommodate up to six guests. Inside the suites, you will be graciously greeted by granite adorned kitchens with top-of-the-line GE appliances, craftsman styling, spa-like baths, flat screen TVs, and the most amazing views of the Sea of Cortez in all of Baja. After tearing yourself away from the magical view, you will discover four expansive pools that flow effortlessly into the natural surroundings, a spirited and relaxing pool bar, whirlpool hot tubs, a massage cabin, a seven-hole mini golf course, and a Kid's club to entertain your little ones while you explore all that Los Cabos has to offer.


Club Regina Los Cabos at Westin for Nature Lovers and Casual Tourists


Los Cabos is widely regarded as one of the most naturally stunning and beautiful Mexican regions, and with perfect weather nearly every day of the year, it caters to nature lovers and casual tourists alike. During the winter, you can watch dozens of whale species play in the waters just offshore. When the whales are not populating the waters, you can enjoy fun and romantic horseback rides down the area's deserted white sand beaches or take in a game of golf on any number of PGA championship courses that dot the landscape. At the end of each day, you will find yourself sitting on the balcony of your Club Regina Los Cabos fractional ownership enjoying panoramic views of the most breathtaking sunsets in the world.


Experience World-Class Fishing at Club Regina Los Cabos at Westin


The Sea of Cortez just outside the doorstep of your Club Regina Los Cabos timeshare resale property is world-renowned for its exhilarating sport fishing, offering anglers of every skill level a truly exciting and memorable experience. Even if you are not a serious fishermen who returns each year to experience the area's world-famous marlin fishing tournament, thrilling challenges still await you in the refreshing cobalt waters of Los Cabos. There are hundreds of charter boats that will take you out onto the waters and allow you to battle it out with tenacious grouper, speedy yellow-fin tuna, and regal striped marlin.


Club Regina Los Cabos at Westin for Nightlife and Culinary Delights


As arguably the most popular vacation destination in all of Mexico, Los Cabos is buzzing with nightlife. After satisfying your taste buds at Inizio, Club Regina Los Cabos' in-house restaurant, or any number of terrific Mexican restaurants in the area, you can enjoy a cocktail or two at the resort's Bar Vajra while watching the sunset. Afterwards you can explore the pulsating nightlife of Cabo San Lucas and party the night away. Just imagine, there are Club Regina Los Cabos timeshares for sale that can allow you to experience all of this and more year after year.


Have the Time of Your Life at Club Regina Los Cabos at Westin


If sipping margaritas while watching glorious sunsets, relaxing in a poolside paradise, spending hours exploring the enchanting Sea of Cortez, world-class fishing, and intoxicating nightlife sounds like the perfect vacation for you, there are Club Regina Los Cabos timeshare deals that can provide you with all this and much more whenever you're in need of fun, relaxation, and rejuvenation. Premier Timeshare Resale can help you buy a Club Regina Los Cabos timeshare that will exceed all of your needs. If you need to sell a Club Regina Los Cabos timeshare, the real estate experts at Premier Timeshare Resale can find the perfect buyer who is ready to soak up the Los Cabos sun and create their own memories in this enchanting locale.