Club Regina Puerto Vallarta at Westin
Puerto Vallarta, Mexico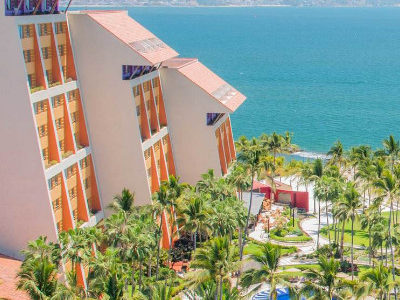 CAN'T FIND WHAT YOU'RE LOOKING FOR?
GO HERE
Resort Description: (scroll for more)
Located between Banderas Bay and the Sierra Madre Mountains, Club Regina Puerto Vallarta at Westin is nestled in one of the most beautiful settings in all of Mexico. Puerto Vallarta's golden sand beaches, turquoise waters, rich biodiversity, thriving cultural scene, and eclectic nightlife draw vacationers from all over the world, and Club Regina Puerto Vallarta timeshare resales are right in the heart of it all. Combining elegance and tradition, Club Regina Puerto Vallarta at Westin is the perfect place to enjoy relaxing ocean views and unwind after a fun-filled day of partaking in Puerto Vallarta's endless array of activities. From canopy tours and SCUBA diving to art galleries and theatre, Puerto Vallarta is an ideal vacation destination and the perfect place to create lasting memories.


Club Regina Puerto Vallarta at Westin from the Inside Out


Laden with towering palm trees and set along the golden sands and crystal clear waters of Banderas Bay, Club Regina Puerto Vallarta is the epitome of a tropical paradise. Inside the resort's impressive edifice, you will find three types of comfortably elegant suites to choose from. Featuring handmade cedar furniture, marble floors, a balcony with a jetted tub, and a kitchen complete with new stainless steel GE appliances, you will sink into relaxation every time you open the door to your Club Regina Puerto Vallarta timeshare resale.


It may be difficult to pull yourself out of the balcony whirlpool and tear your eyes away from the magical sunset, but the resort offers plenty of other amenities as well. Luscious gardens, an expansive pool and poolside bar, tennis courts, gym, steam rooms, restaurants, and much more are at your disposal nearly every time of the day or night.


Life's a Beach at Club Regina Puerto Vallarta at Westin


With beaches that few other destinations can match, Puerto Vallarta oozes relaxation. Just steps away from your Club Regina Puerto Vallarta fractional ownership property you will discover soft, golden sand beaches that contrast beautifully to the azure waters of the southern Pacific. You will find yourself spending entre days sipping refreshing cocktails underneath the palms and enjoying swimming interludes in the stunning turquoise waters. However beautiful the water may seem from above, snorkeling or SCUBA diving will allow you to discover the colorful abundance of diverse sea life that call these soothing waters home.


Fish the Day Away at Club Regina Puerto Vallarta at Westin


Further offshore, fishermen often discover that the waters surrounding Puerto Vallarta are teeming with a variety of fish that very may well be the catch of the day. In fact, second only to Los Cabos as a Mexican fishing destination, Puerto Vallarta has a long history of excellent fishing. From the deck of a charter fishing boat you can reel in snapper, wrestle coveted marlin, and cast out for dozens of other treasured fish varieties.


Club Regina Puerto Vallarta at Westin for a Cultural Experience


Culture abounds everywhere in Mexico, but Puerto Vallarta provides culturally-minded vacationers with much more cultural opportunities than nearly every other Mexican destination. In Puerto Vallarta, there are numerous places to see and experience, including the legendary Plaza de las Armas, Cuale Archeological Museum, Saucedo Theatre, and the Parish Church of Our Lady Guadalupe. There are also numerous unique shops and art galleries displaying the work of talented local artists, allowing you to experience the real Puerto Vallarta as seen through the eyes of locals. Buying a Club Regina Puerto Vallarta timeshare makes it easy to be in the center of the action.


Buy a Club Regina Puerto Vallarta Timeshare and Join the Party


If you enjoy a night out on the town, Puerto Vallarta is the place for you. The charming coastal city boasts one of the most eclectic nightlife scenes in all of Mexico. From Old Puerto Vallarta's famed Andele Bar to the stylish and decidedly urban Coexist Café located downtown, there are endless opportunities to party the night away with other vacationers and the city's friendly locals. Thankfully, there are terrific Club Regina Puerto Vallarta timeshare deals available that can place you right in the heart of all of the buzzing nightlife that Puerto Vallarta has become famous for.


Enjoy Puerto Vallarta Year After Year at Club Regina Puerto Vallarta


If you would like to experience unparalleled scenic beauty, ultimate relaxation, and endless activities, then one of the Club Regina Puerto Vallarta timeshares for sale is the ideal place to call your home away from home. The dedicated experts at Premier Timeshare Resale can find you the perfect Club Regina Puerto Vallarta timeshare resale at an irresistible price. If you need to sell a Club Regina Puerto Vallarta timeshare, Premier Timeshare Resale will work diligently to find you the right buyer as well, providing someone else with the opportunity to experience one of Puerto Vallarta's most esteemed resorts.